How to Get Fluffy Hair: A Hairstyle Guide for Men and Women
Light, textured, airy, and just the right amount of mess. Do we have your attention? Great! 
Yes, we are talking about fluffy hair that you all have been craving for. Fluffy hairstyles have made a comeback and are not going back anytime soon. They are all the hype now and are catching the attention of youngsters. 
The hairstyle is booming among young men and women. The hairstyle gives you more volume, movement, and body with a lived-in appearance.
Yes, getting this hairstyle is an art but anyone can do that as it is pretty easy to get fluffy hair. People with any hair type including oily hair, damp hair, frizzy hair, big hair, or short hair can enjoy the fluffiest hair to stand out of the crowd. If you also want to rock this voluminous blowout every time you step out of the house, this hairstyle guide is for you. 
Keep on scrolling down to go through the following tips, tricks, and techniques to get a head full of fluffy, healthy, thick hair.
Fluffy Hair, What is That?
For those who don't know, fluffy hair is the classic blowout of the 90s' fashion world. The kids of the present times dub it "fluffy hair". Most of the supermodels from that era used to carry this hairstyle. 
Alicia Silverstone from Clueless and the ever gorgeous Danielle Fishel from Boy Meets World are prime examples of such celebrities.
It is clear why this hairstyle is named as fluffy hair. Bounce and volume are key players of this style. The hairstyle makes your hair ruffled and fluffy. The look is all about like you just rolled out of your bed but are prepared for the runway.
Fluffy Hair vs. Poofy Hair: Is There a Difference?
We often consider poofy and fluffy hair the same but they are different from each other.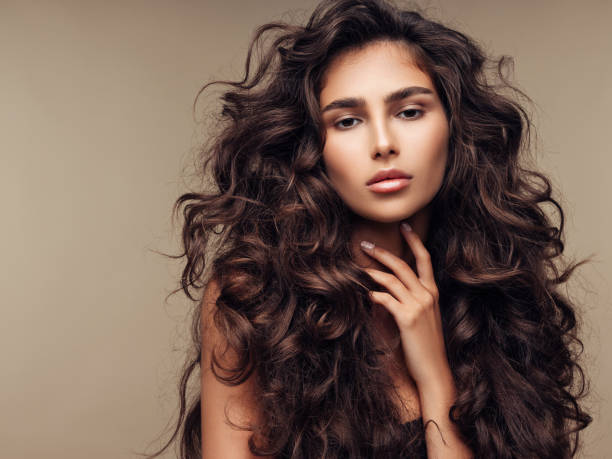 Poofy hair is considered to be a style that has a frizzy look and high volume. Poofy hair occurs in a natural way on the basis of the level of humidity, natural texture, and hair type. It cannot be created in an artificial way.
On the other hand, fluffy hair is a state in which your hair is a nice balance between a blowout and a messy texture. It has somewhat texture for a balanced appearance while your hair strands sport a bouncy, smooth, and shiny look.
Tips for Men to Get Fluffy Hair
Adding Volume Naturally
For the growth of thick and healthy hair, you should add foods that have vitamins A, B, C, D, and E in your diet. Foods having good amounts of Biotin and Iron are also nourishing and useful for adding mass and thickness to your hair. 
Want to highlight your fluffy hair with a brightened-up blonde appearance? Try using chamomile oil. It will give extra shine and radiance to your hair. 
Some of the other aromatic oils that you can use for the same purpose include lemongrass oil, rosemary essential oil, and tea tree oil.
Fluffy Haircuts
Your mojo personality needs haircuts such as long Pompadour and flowy layered hair to achieve messy, fluffy hair. Blonde guys with blow drying should go for a casual messy surfer look. It is an ideal combo and for an extraordinary look, you can simply tame it by teasing it with your fingers.
You can make your hair look thick and fluffy with shaggy hairstyles as well. Either longer or shorter shag hairstyles, you only require a little bit of effort for styling your hair. 
You can have noteworthy fluffy hair with this haircut by using hair glue and wax. Plus, it will make your hair look more scruffy.
Using Brush for Scruffy Hair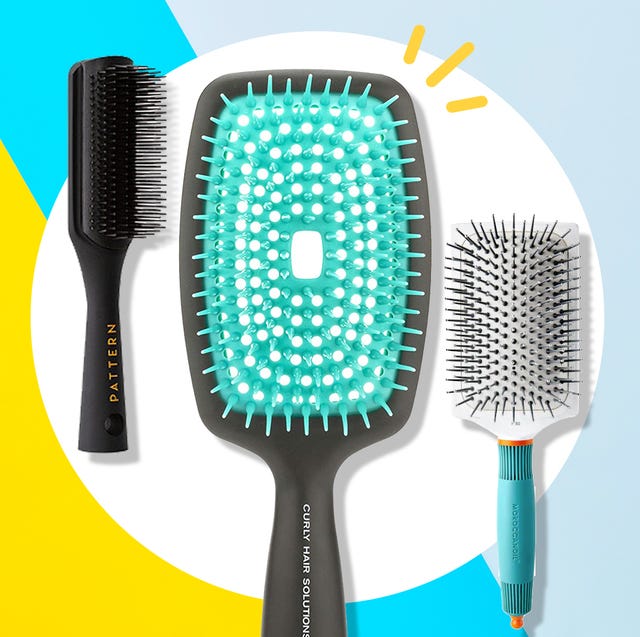 Using a brush or comb for teasing the hair unconditionally is one of the most effortless and authentic methods for men to obtain fluffy hair without any undue effort or price to pay. 
You can back brush your hair with a comb to put a considerable volume to your hair without aggressive back brushing and forceful strokes. Avoid using a tooth comb to achieve this goal.
To get scruffy hair at its ideal shape, give your hair some dry condition and take a brush to uplift the roots by combing repeatedly in an upside-down position. Try not to overbrush your hair or your hair volume will look lighter with a hardly noticeable fluffy appearance.
Using Volume Building and Dry Shampoo
Dry shampoo works far better than wet shampoo because you can use it whenever you want while it is dry. It is much safer and can be used on any occasion. 
The shampoo with foam is perfect for refreshing your hair without leaving it wet. It also helps in absorbing oil buildup that can reduce the weight of your hair. You can effortlessly get fluffy and silky hair in no time without washing it every day.
Excessive usage of dry shampoos may cause scalp problems, so avoid using them often.
Volume building shampoo works exceptionally well in increasing hair volume and thickening hair. Add in a top-quality conditioner to achieve remarkable outcomes. They can also counter sebum to increase the weight of your hair.
Using Hair Mousse 
There is no foam better than hair mousse for guys having any kind of hair condition and texture. You can use just the right amount of lightweight mousse directly into your hair to avoid frizz and holding strands for quite some time. A top-notch mousse of a reputable brand can enhance bouncy curls of your hair making them brighter and fluffier.
Using Volume Powder
Volume powder is another awesome product to add to your daily hair care routine. It adds volume to thin hair making them prominently fluffy. To settle down the powder, use your fingers until it disappears.
Removing powder residuals on time is also crucial as it can cause complications for you including itching. To avoid these issues, make sure to wash it out of your hair in a timely manner.
Flip And Tease Your Hair
Another way of getting fluffy hair is to flip and tease your hair. Even the world's most renowned hair stylists use this trick. Just change parts to flip the hair and fine volume is added where they fall. Furthermore, hair roots also feel relaxed and comfortable by changing your hair's position on a daily basis.
It is recommended by professional stylists to change the hair side each month to give breathing space to hair strands and roots. It will make your hair healthier and reduce hair fall. Before teasing your hair, totally dry them out. Once roots are dried up, you can easily lift them in a natural way. 
Ratting or teasing your wet hair definitely increases the chances of creating some shaggy styles and volumizing hair. You can quickly get fluffy hair with the help of a wide-toothed comb. Use the comb to provide your hair roots extra life by using hair down continuously and then flipping it up back again.
There are tons of root boosting products available in the market that you can add to your hair care arsenal. They are capable of styling your hair without decreasing the weight. Such products are suitable for wet hair to get everlasting style and gorgeous looks.
Choose The Best Hair Diffuser
Hair diffusers are mostly popular for making hair fluffy instantly with no frizziness. They also provide fantastic results if you are looking to curl your hair in a natural way. 
Using hair dryers with hair diffusers is perfectly okay as diffusers have the ability to spread out air over large portions of hair. It is also an out-of-the-box method to get thick, fluffy hair without using a comb.
Tips for Women to Get Fluffy Hair
Ladies can bring their fluffy, voluminous, and thick hair dreams come true by following these tips and tricks.
Blow Dry Your Hair Upside Down
This trick is similar to that of men. We all know that volume and fluffy hair are linked with each other. That is why blowing dry your hair upside down is the simplest option you can opt for to liven up your locks. It will lift your hair roots off of your scalp. 
It is recommended by professional hairstylists that you should use a blow dryer at its normal speed to allow your hair air-dry. Avoid blasting your curls with a blow dryer in all directions because it will destroy their beautiful shape and ultimately your hair may become poofy.
Ultimately, you will be able to boost the volume of your hair. Just flip your hair upside down and use a boar bristle hairbrush to dry them. And there you go, enjoy a lovely fluffy hair look.
Using Hot Rollers
Another brilliant way to fluff up your hair strands is to use hot rollers. These bad boys also do an exceptional job at keeping frizz at bay. It works remarkably well to amp up the volume without depending on heat styling equipment. This technique is a banger for heatless hair curls as well.
Opt for Volumizing Hair Care System
The secret behind getting fluffy hair lies in the shower. Transform your hair strands by substituting your favorite hair conditioner and shampoo with a top-of-the-line volume boosting hair care system. 
There are many volume boosting shampoos and conditioners available in the market that you can give a shot.
Go for Dry Shampoo
Getting fluffy hair is not that difficult or a tough job to do. Maintaining the gained volume surely is a hard task. If not enough care is given to your hair, your hair begins to lose weight. 
To preserve the volume of your hair, try a good quality, reliable dry shampoo. The shampoo is designed to pump up the volume, give your strands a new life, and absorb oils to keep the volumized look intact.
Layer Your Hair
In order to give a fluffier and voluminous look to your hair, your hair should be well cut and layered. There are a number of options out there in which you can layer your hair including cutting with a feather razor, or razor blade, using barbed scissors at a precise angle for thin hair, etc. Depending on your needs and hair texture, you can opt for a suitable way to layer your hair.
Dying Your Hair
Another unique method to amp up the volume of your hair is to dye them. It makes them look additionally volumized and gives them a catchy appearance. This is so because cells in your hair are opened up when you dye your hair. 
The dye spreads into the free space available in the hair follicles, which means that the hair cells will not fully close. This makes your hair extra filled, and hence thicker, voluminous, and fluffier.
Tying a Hair Bun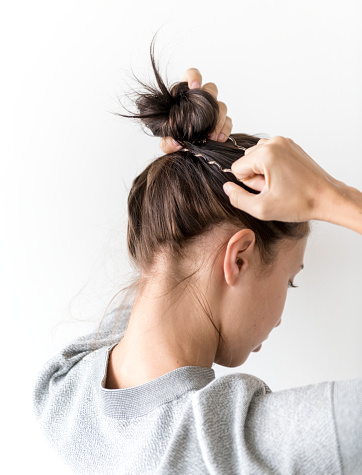 You can add volume to your hair by tying your hair in the shape of a bun. All you need is a hair tie and you can tie up your hair effortlessly. If required, you can also choose an elastic headband made up of fabric if the rubber band does not do the job for you. 
The decision of choosing a standard hair tie or elastic headband is not significant, it's the desired results that matter the most.
Dos and Don'ts of Getting Fluffy Hair
Following are the Dos and Don'ts which you should keep in mind if you decide to get fluffy hair.
Dos
Decrease the number of times you dye your hair
Always apply conditioner everyday
Opt for hair masks
Use home-made conditioners
Use root-boosting products
Use cool water to rinse off your conditioner
Go for hot oil treatments
Trim your hair frequently
Don'ts
Don't backcomb your hair regularly
Don't wash your hair with hot water
Don't shampoo your hair daily
Don't overuse dry shampoo
Don't do specific hairstyles that tighten the scalp
Don't expose your hair to sun 
Minimize the use of heating tools
Conclusion
It doesn't matter whether you have long hair or short, the tips, tricks, and techniques mentioned above will surely help you in getting voluminous, thick, fluffy hair with beautiful curls. 
We are confident these tips will definitely work for both genders. You can try various hair care products and tools to get your desired looks. 
Even if you don't get your dream results, try some other methods or techniques until you achieve your goal.
The information on mynoophoric.com is for informational, educational and entertainment purposes only and is not intended to be medical advice. Readers should not rely on this information as advice to make health decisions. Noophoric is not responsible for any possible health consequences from any person following information that is presented on this website. Readers should consult with their physician before making changes to diet, nutrition, supplementation, medication or lifestyle.

Our editors have independently chosen the products listed on this page. If you purchase something mentioned in this article, we may earn a small commission.